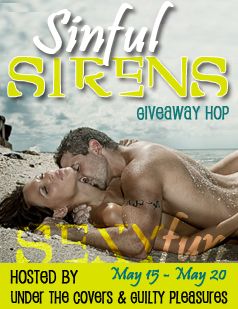 Welcome to the Paranormal G-spot!
For the Sinful Sirens blog hop I'm giving away an ARC of the 4th book in my paranormal romance series, Destiny Bewitched (so better go out and by the first three for only $2.99!). This contest is open to International readers as well. Just fill out the rafflecopter below and happy hopping!
And for your entertainment and to entice you to enter, here's a little snippet from Destiny Bewitched, releasing June 22nd!
She struggled beneath him, her cheeks flushed and chest heaving. Several necklaces – silver chains with various charms and a piece of leather tied around a feather – drew his gaze to her pale, slender neck. A neck he could sink his teeth into. He liked the look of her underneath him far too much. Two hundred years without a woman…why couldn't Ares just have had him flogged?
"Let me up," she yelled. "You're squishing me."
Reluctantly, he did. "You'd be more than squished had I been someone else. Your stance is too narrow. That's why you fell over so easily."
She scowled at him and straightened her clothing. "Don't tell me how to fight."
"Then stay behind me and I'll do it for you."
"Never."
"Stubborn."
"Bossy."
Gods, she was a saucy thing. Repressing a smile, he picked her sword up off the ground. "Spitfire and ambition will only get you so far, Samantha." He held out her sword. "Knowledge and patience are the foundation for success."
"My sister doesn't have time for me to be patient." She started to put the sword back into its sheath.
"No." He grabbed her wrist and, under her icy glare, he positioned her sword arm out in front of her. "Widen your stance."
She tossed him a dirty look but did as he said.
He walked a circle around her. "Good. Now scan."
She looked left then right. "Clear." She took a step forward but he grabbed the back of her shirt and tugged her against his chest.
"Never forget the sky," he rasped against her ear.
Her breath quickened and he could hear her heart pound wildly. She looked up then whispered, "Clear."
"Good. I can't use a dead witch so try to keep yourself alive, yes?"
"I suppose I can try."
a Rafflecopter giveaway