Welcome to The Paranormal G-spot!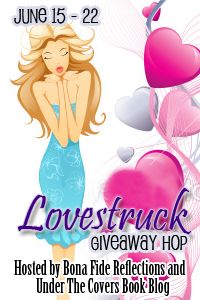 For the
Lovestruck Giveaway Hop
this week I'm giving away two e-books! Destiny Unchained, the 3rd book in my paranormal series, and Trinity Bound, another paranormal romance by Carrie Ann Ryan. This giveaway is open internationally and the winner will be announced on the 23rd.
As you may or may not have heard, my 4th book in my series,
Destiny Bewitched, releases in just ONE WEEK!!!!
On the day this blog hop ends, Destiny Bewitched will be available on all e-readers for only $2.99!
Here's a sexy little sneak peek. ***18+ only***
His mouth skimmed along her neck, licking, kissing. Goose bumps rose over her skin. He nipped the side of her jaw and she jerked. A shiver shook her. He was so unpredictable – so dangerous. And she'd never been more turned on.
"Did you put a spell on me, little witch?" he rasped in her ear. "Am I yours?"
Mine? God I want to say yes! She could barely find her voice. "Something tells me you're not the type to belong to anybody."
He leaned his forehead against hers. "I'm beginning to doubt that."
He tilted her back again and this time he pulled down the zipper on her vest. Not all the way, just enough to expose her cleavage. She'd taken her bra off when she tried it on. A few more inches and her breasts would be exposed.
She should stop him. She really should stop him.
He kissed the top of each mound and she sagged against him, her will overtaken by her libido. Then he looked into her eyes.
"I want you." His declaration was so packed with need she almost whimpered.
What would it be like to be taken by such a strong, demanding male? Would she regret it if she said no? The hand in her pants moved lower…under her cheeks…between her legs. She gasped when he touched her there. Could he feel how wet she was? Fire raced through her veins. Then he took her mouth. And there was no gentleness about him. His lips moved recklessly against hers, pressing her backward. His hands moved from her pants and cupped the back of her head, holding her in place. Though it was only their second kiss, he tasted so familiar. He nipped at her bottom lip, demanding entrance. His tongue plunged into her mouth as he sucked hers into his.
Then she knew the meaning of possession.
Also, I announced last week that 10% of my royalties on Destiny Bewitched for the opening weekend will go to the charity Operation Smile - a non-profit that repairs cleft lip/palate in 3rd world countries. I'm doing this in honor of my son, who was born with the same condition.
Fill out the Rafflecopter below to enter to win two PNR e-books! Check out the other awesome blogs on the hop on the links below! And remember to pick up
Destiny Bewitched June 22nd!!!
a Rafflecopter giveaway